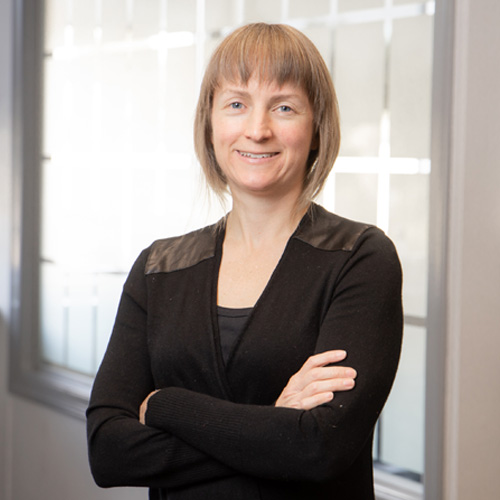 Dr. Stacey is passionate about helping patients in the North York community unlock their true health and wellness potential through gentle, patient and conscious chiropractic techniques — safe enough for the entire family.
Discovering Chiropractic Care
When Dr. Stacey was in her first year at University, she sustained a lower back injury that took her off her feet. Unable to walk, her stepfather made an appointment for her to see his chiropractor, who had helped him combat headaches for years.
Not sure what to expect, Dr. Stacey was initially nervous, but once she experienced the gentle, natural approach to healing from within, she knew she had found her calling. She loved that someone took the time to explain to her what was happening with her body and how they would work as a team to get her health back on track. She takes the same approach with her patients, making sure they understand what to expect and what they can do at home to help.
This experience, coupled with the fact that she was always interested in a health-based career, put her on the path to becoming the excellent chiropractor that our patients know and love today.
Dr. Stacey pursued her Doctor of Chiropractic at Canadian Memorial Chiropractic College and is always striving to learn more. She attends seminars and courses every year to keep her up to date on the latest research and adjusting techniques. She has attended numerous courses focusing on the care of babies, children and pregnant women and is certified in the Webster Technique.
Helping Patients Boost Their Well-being
At Bayview Village Wellness Centre, Dr. Stacey takes the necessary time with each patient to help them understand the inner workings of their body and injury. She also teaches them exactly how chiropractic care, in addition to healthy eating and exercise, can help them maintain health for a lifetime.
She wants her patients to understand that chiropractic care isn't just for people who are in pain. It's an excellent choice for entire families, from babies with colic to grandparents with sciatica, as it helps the body rediscover the ability to heal itself.
Dr. Stacey is a current member of the following organizations:
Maintaining Health from the Inside Out
Dr. Stacey knows that chiropractic care isn't the only requirement for leading a healthy life, which is why she's an active member of her community, teaching weekly kickboxing and yoga classes. When she isn't in the office, she enjoys spending time with her son, Noah, and her partner, Carl, biking and golfing. She's also a member of a local competitive curling team.
Dr. Stacey would love the opportunity to meet you and your family! If you're interested in scheduling an appointment, we encourage you to contact us today to discover how chiropractic can help